Frequently Asked Questions.
How large is your big fountain?
Portland Chocolate Fountains offers the largest chocolate fountains available in the Portland Metro area. At nearly four feet tall, our fountains tower above the rest to create a striking presentation. Not only does a larger fountain leave a lasting impression, it can accommodate a large number of guests.
How many people will the chocolate fountain serve?
Only

large chocolate fountains

provide the versatility to accommodate any number of guests. Our packages includes anywhere from 6 to 30 pounds of premium chocolate, which is adequate for appetizers or dessert for 35-320 and even more guests.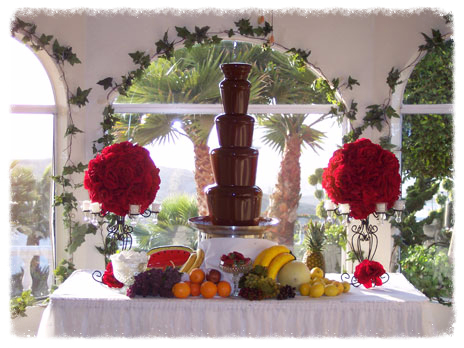 How is the fountain and food table presented?
Our stainless-steel fountains are a beauty in themselves. If you'd like to enhance your party flair, decorative options are endless. Portland Chocolate Fountains specializes in offering additional table creation packages. You can choose from one of our flamboyant décor selections, or prepare a style of your own. We are available to help make your vision a reality.
Do you work outside the Portland Metro area?
Yes, we would love the opportunity to provide our Chocolate Fountain to you near and far. A nominal fee of $1.50 per mile is charged for travel outside Portland metro areas.
How long will the chocolate fountain be at my event, and what is unlimited service mean?
With our standard package, the chocolate will flow for three hours. We will arrive up to one hour prior to the start of your event and will discreetly remove the fountain. Additional "flow time" is available in half hour increments. Unlimited service is also available, and there is no price difference. The only difference is with our standard package, the attendant will be present throughout the event, and with unlimited service no attendant will be present, but we still will come to you, set everything up, explain how to handle the fountain, and discuss the time when we will pick up the fountain.
Who will provide the dipping items?
Menus and packages of dipping items are available through your catering service. You are welcome to use your own caterer, provide the dipping items yourself, or we can provide them too for a fee. We have provided a list of dipping suggestions and well-known favorites. (Crumbly items such as pound cake are not recommended as they tend to compromise the smooth, flowing nature of the chocolate).
Who runs the chocolate fountain throughout the event?
With our standard package, we have professional and courteous attendants who strive to make your chocolate fountain experience fun and memorable. The attendant will be there to set-up, run, and disassemble the chocolate fountain!
Is the chocolate fountain messy or does the chocolate splatter?
No. Our fountains have been specifically designed with an 18.5 inch basin to prevent messy drips and splattering. Other than the occasional drip from an over-indulgent guest, the chocolate fountains stay surprisingly clean. Our attendants are always on hand to maintain a clean presentation.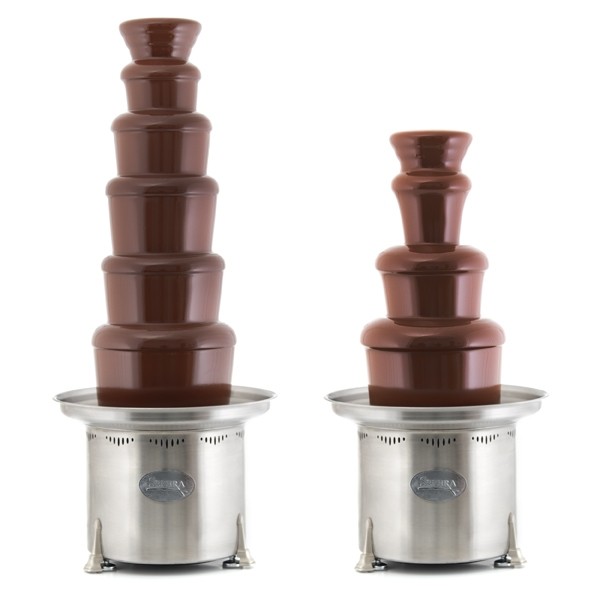 What are the technical requirements for the chocolate fountain at my event?
The Chocolate Fountain requires a level, sturdy table or structure capable of holding 130 pounds and access to a 120-volt electrical outlet within 10 feet of the table location. Please re-confirm these requirements with your

event planner

before the event so that there is no delay in the set-up of the fountain. We can work with all event decorations.
Can the chocolate fountain be used outside?
Wind guard (picture on the left) can be provided for our 44'' and 34'' fountains. Other sizes under most circumstances we are unable to provide for outdoor events. Unexpected weather change may affect the proper flow of the chocolate and disrupt it. Please

contact us

as we are willing to discuss each event on a case-by-case basis.
©Copyright

Saphina Catering. Portland, Oregon